Features:
Removes more organic matter.
Reduces pathogens entering harvest floor.
Saves energy.
Saves water.
Low annual operating cost.
Short term ROI.
Received FSIS Letter of "No Objection" for use in FSIS Establishments. (View Letter)
Systems customized to your operational requirements – from 60 to 360 plus head per hour.
All parts are USDA approved for use in the food industry Patents 8,070,568 and 7,387,565.
Leasing available.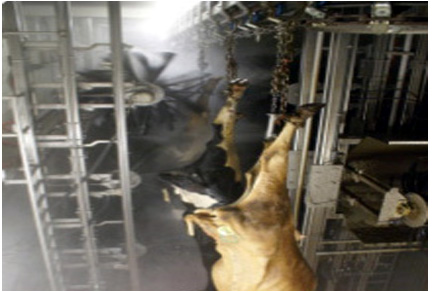 The Hide-on Washer is tough on fecal. The patented strikers repeatedly attack the soiled hides to more effectively strip off the organic matter with no damage to the hides. High-pressure water action is replaced with the mechanical advantage of the strikers. The bank of high pressure pumps required in present systems is no longer needed. Thus water usage is drastically reduced.
With the hides clean, an anti-microbial chemical of choice should be added to reduce or eliminate microbials that are present on the hide. Keeping microbials like E. coli O157:H7 out of your plant is the right step. If they aren't there, they can't crosscontaminate. It only makes sense that with fewer microbials entering your harvest floor, your chances of recalls from crosscontamination would be reduced. One recall could be your RIO! Will the next recall be yours? Call 800-552-5797 today to have WMR's experts visit your plant.
FSIS has issued a letter of "No Objection" for its use in any FSIS inspected Establishments and is available by clicking on the "View Letter" link in the Features section above.