Features:
FF-2000EUO Series For Chicken
FF-4000EUO Series For Turkey
Removes external contaminates
Twice the cleaning power of any bird washer in the industry
Dependable and consistent cleaning results
Cleans like nothing else in the industry
New and unique brush design
Low maintenance
Reduces NRs
In-plant USDA approval granted in every plant where requested
FSIS Letter of No Objection
Quick ROI
US Patent 7,467,994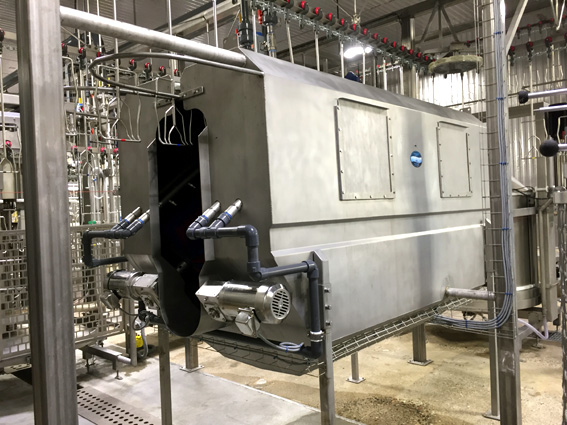 WMR's bird washers have always been the best and most reliable washers in the industry.
Now comes the next generation of bird washers, "The Ultimate One." There is nothing in the industry like it. No other bird washer comes close to delivering the cleaning power of this system.
From maintenance comes statements like; "We turn it on and don't have to baby sit it." And "The design is such that we can replace the brushes in an hour not in a day as with our old system."
One general manager stated that they had not had a single fecal failure on the outside of the bird since installing "The Ultimate One." If you struggle with fecal failures, there is an answer, "The Ultimate One."