Features:
SCWO-5000 Series (Pork)
SCW-6000 Series (Beef)
Removes bone dust
Cleaner neck cavity
Saves energy
Saves water
Easy to maintain and service
Simple to operate
All parts are USDA approved for use in the food industry
FSIS Letter of "No Objection" (Beef Letter) (Pork Letter)
US Patents 7,407,994 7,458,886, 7,566,260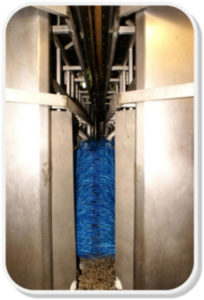 The SCW series Split Carcass Washer is designed to remove bone dust and unwanted processing residue. This system provides cleaning that "spray only" systems can never achieve. This method of cleaning produces a cleaner product with a fraction of the water used by conventional wash cabinets.
The SCW can clean the entire carcass or only the areas desired by your production requirements. One major cleaning area of focus is the neck cavity. Water alone cannot do the job, but it's a snap with the WMR Split Carcass Washer. With a cleaner split carcass, your "pasteurization system" can now do a more efficient job.
FSIS has issued a letter of "No Objection" for its use in any FSIS inspected establishments.
Call us to schedule an in-plant visit.