Features:
Cleans modular conveyor belts
Easy to install
Reduces sanitation time and cost
Custom designed to fit your conveyor
Cleans inside and outside of belt at the same time
Cleans 100% of the belt surface including those difficult to reach hinges
Low maintenance and repair cost
Click here to receive a quotation.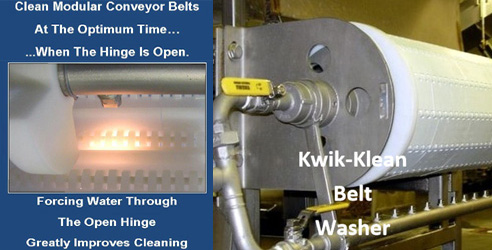 The patented Kwik-Klean Belt Washer is the most effective belt cleaning system in the US. These units will clean 100% of your modular belting including those hard to get at hinges. You can pre-rinse, foam and sanitize with better results than ever before. In fact, you may never have to remove your belts every night just to clean them.
The Kwik-Klean Belt Washer installs in as little as 15 minutes and in most cases requires no modification to your conveyor other than replacing the bearings, shaft and sprockets on the idle end. Because these units are build sturdy and dependable, there is almost no maintenance required. The components just keep lasting and lasting and lasting. . .